Phuket Trip
Everyone says about Phuket. It is one of popular place to be visited. Last year around October or November, we got promo ticket which had been informed by my mate, Stefano. Fortunatelly, we got ticket to Phuket just by IDR 550.000 for two ways flight. We have been planning this trip almost for a year. Eventually, the awaited date was coming.
1st day (September 28th, 2014)
We gathered in Airport, most of them used taxi together while I took taxi just by myself. I recently knew some of trip members there such as Husein & Meiyer. The flight took around 3 hours. Honestly, this is my first time going to another country. I didn't feel in different country since their faces look like Indonesia. I guess the name officer in Airport such as Joko, Bambang, Rudi, etc. We got free provider in Airport yet I cannot activate it in my device. So, in Phuket I just relied on wifi.
at Phuket International Airport
In the first night, we walked around Patong, Bangla Road (Popular road where tourist, ladyboy and sexy women are everywhere). I tried to eat Kebab at that night. The price is 100 Bath. Around IDR 30.000 – 40.000 but the price more delicious than I've tried in Jakarta. I also tried Mango Sticky Rice. There was no exact plan at that night, just going through Bangla Road and backed to hotel.
Place where I tried Mango Sticky Rice
Bangla Road
Patong Beach
Kapunkaaaaaa…. Special McD Style
2nd day (September 29th, 2014)
We visited Phi Phi Island. The famous one. When we booked the travel, she said we will go to 5 islands for that day. In fact, we just enjoyed Phi Phi Island and just passed by the other four islands. In the first day, I got interesting experience. In the boat, there were many people from different countries. Most of them Asian such as from India, Taiwan, Korea and so on. But there were 3 sexy women from South Africa. When I saw them with their stunning colour clothes and corn-row hair. I directly talked to them that I love their hair. I said that I have afro hair before and have plan to make it corn row before. Since I work in office, I cannot make it happen. Then, she touched my hair and she said, ya you can make it someday. Your hair type is proper. Then, I took picture with them.
Sexy South African Women
When I sat in my chair, I saw them dance uniquely. I've been stimulated to talk to them again and did dance together. I realized that dance is not easy at all. When I tried, pearl (the african woman) said "Don't pose. It needs attitude. Like give your hand to paparazzi. Do it more SWAG". Ya, both of them so SWAG hahaha And here is the video.
Fortunatelly, Maiyer took video when I asked them to dance together. And here is the behind the scene.
Back to our trip again, we had lunch in Phi Phi Island. The one that I love the most is cold fresh water hahaha the temperature was very hot. And I felt in paradise when the water going through my esophagus. Honestly, I don't really like Phi Phi Island. I think because I expect so much before. In fact, there is no something special. Just Island with many alley like in Tidung Island. And the beach also yaaa, same with other beaches. Nothing really special.
Lunch
After back from Phi Phi Island, we swam in our hotel first. We met australian guy who can dance like a woman. Then, we walked to Bangla Road again in the night. But we entered on of bar there. Actually it's not such as night club here. There's no DJ, just band. And we spent the night by dancing together. So much fun.
Could you guess which one the australian guy?
Where I am?
Circumstance at the bar
3rd day (September 30th, 2014)
We went to Coral Beach and Maya Beach. We swam for a while in Coral Beach and had lunch in Maya Beach. I love Maya beach more than the others. There are many interesting things to be captured.
at Coral Beach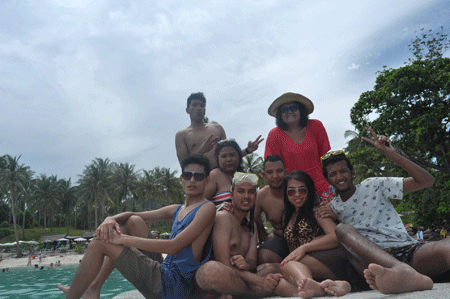 in Maya Beach
Again and again, we always going to swimming pool first before enjoy the night. In that day, we met to the Polish. Sexy mom with her kids. And we run the night as usual, just in Patong but with different activities. I tried the gellato ice cream there.
4th day (October 1st, 2014)
In the last day, we bought some gift to our relatives. I have interesting experience when I want to buy gift. I have budget just for 100 bath for one gift. I search gift within my budget. And finally I see the stainless steel glass with thailand emboss. I ask the seller how much it is. Then she just typed in calculator 1800 bath or 1180 bath. I forget the detail. Then I just shocked with the price. I just keep silent, smile and go to other store. She urged me to bargain. I tried to not even try. Because I know my budget just 100 bath and the price is more than 10 times. But, she asked me again and again "how much do you want?". Eventualy I asked "I guess it just 100 bath". She suddenly asked me with her serious face "Are you okay? I think you are sick. You need a medicine". She is not using high tone, but with serious face and tone. I just defense and said "That's why I don't want to answer, because it's out of my budget. You urge me to bargain." She madly said "How come you think this stuff just for 100 bath?". I just get out to other store still searching the gift.
We go to Airport around 4 p.m and finally say good bye to Phuket. This trip was so hillarious. Act like the tourist, enjoy the beach, try new meals. Thank you guys. See you in another trip.
P.s: if you want to see more beautiful pictures in Phuket, just follow my instagram @nizarland
"Where The Land Inspires The World"